Young alumna balanced motherhood and class to graduate on time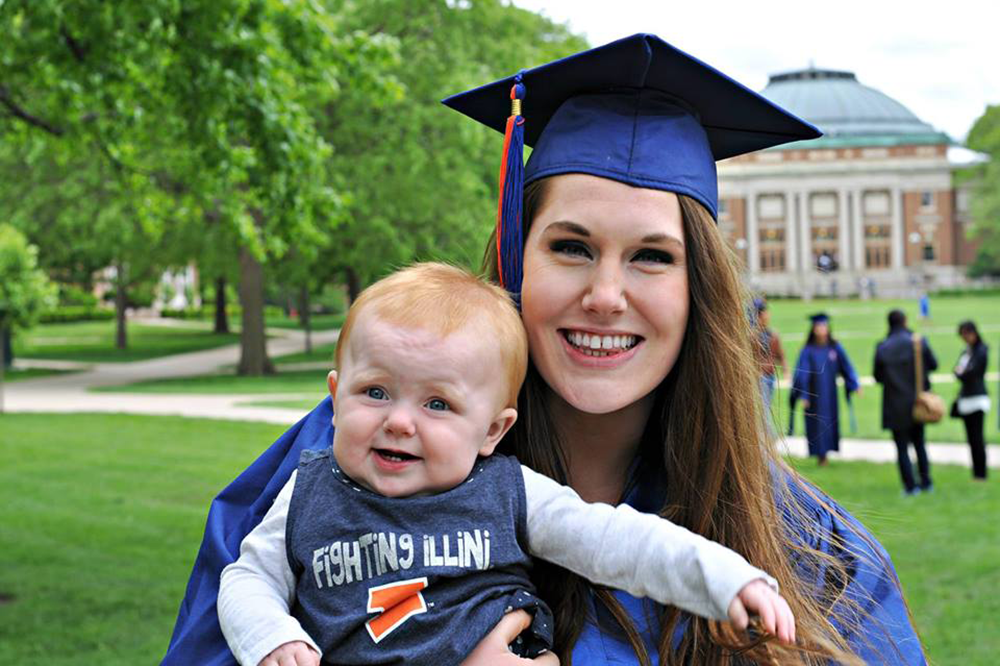 It was summer 2015, and the upcoming fall semester of college was heavy on Emma Woods' mind. She would be a senior, and she wanted to both excel in class and find a job after graduation. She had no idea that a regular visit to the doctor's office one day would turn her life upside down.
The doctor had unexpected news: Woods was pregnant.  Not only that, but her due date was in September, only a couple of weeks after the fall semester was supposed to begin.
"I was like, 'It's going to be my senior year!' And all of a sudden it was like, 'BAM,'" Woods recounted.
Woods gave birth to a healthy baby girl, Addison, on Sept. 18, 2015. By then, Woods, who was studying in the School of Earth, Society and Environment for a degree in Earth, society, and environmental sustainability, had concluded that she probably wouldn't be able to graduate on time, given both her new priority and the fact that she would miss at least half a semester from the birth.
However, shortly after Addison was born, Woods' advisor told her that there was a way to finish on time. Her major was offered entirely online. By October, Woods was once again enrolled at Illinois. Through a variety of eight-week online offerings, she took courses, finished projects, and completed exams, all while raising Addison through the first few months of life.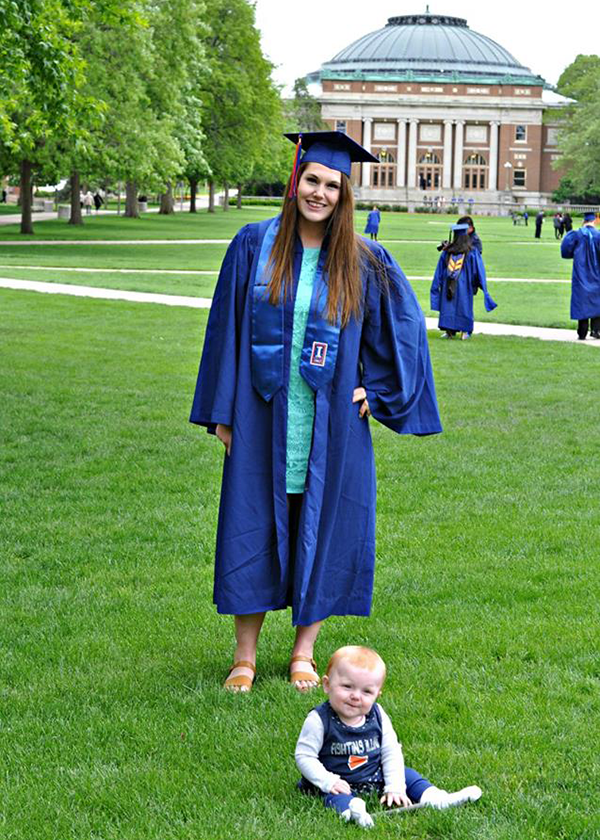 After two semesters, Woods graduated in May 2016, just as she had always planned. Addison—named after the street address at Chicago Cubs' Wrigley Field, 1060 W. Addison St.—was in attendance along with her family and friends.
"It was a moment I probably will never forget," Woods said. "It was so special and it really made me extra proud. It's one thing to be proud on graduation, but I think it just kind of brought it all together. I made it work."
Woods is about to start a new position as an environmental specialist at a company that produces meats for large companies such as Subway. Woods will be in charge of environmental initiatives and oversee the company's commitment to being landfill free.
"My daughter is such a driver in how successful I want to be," Woods said.  "Luckily, she's super, super healthy now and the love of my life, but it was pretty crazy at first."
Without the eight-week, online courses offered by Illinois, Woods said she would have had to transfer to a school closer to her home, potentially delaying her graduation by another year.
"My advisor was really helpful in making sure I got in the courses. He was very on top of everything given the situation," she said. "I owe a lot of the credit to him because he was very much supportive and very much willing to get me in courses. Without that, it would've taken me a little longer to graduate."
Woods said to this day, she is extremely grateful that Illinois offered the online courses because it allowed her to finish school while maintaining her role as full-time mom who was able to stay home to take care of her daughter.
"I'm a firm believer now that everything happens for a reason and timing is important in things," Woods said. "It always freaks me out timing-wise how everything worked out, but I am very thankful."